Rock 98.5 is now YOUR HOME for the Indianapolis Colts!
Join Bob Lamey from preseason to postseason, as he brings you the excitement from the gridiron all year long!
When Chuck Pagano came to Indy in 2012, his job was to "build the monster." That monster is about to be unleashed upon the NFL, and there's no place better to hear that monster roar than where North-Central Indiana comes to ROCK!
The Indianapolis Colts, rockin' the gridiron AND rockin' the air with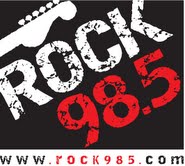 PRESEASON
1

 

AUG 13

 

1:30

PM

EDT

   

LIONS

2

 

AUG 19

 

7:00

PM

EDT

  

AT

  

COWBOYS

3

 

AUG 26

 

7:30

PM

EDT

  

AT

  

STEELERS

4

 

AUG 31

 

7:00

PM

EDT

   

BENGALS
REGULAR
1

 

SEP 10

 

4:05

PM

EDT

 

*

 

AT

  

RAMS

2

 

SEP 17

 

1:00

PM

EDT

 

)

  

CARDINALS

3

 

SEP 24

 

1:00

PM

EDT

 

*

  

BROWNS

4

 

OCT 1

 

8:30

PM

EDT

 

'

 

AT

  

SEAHAWKS

5

 

OCT 8

 

1:00

PM

EDT

 

)

  

49ERS

6

 

OCT 16

 

8:30

PM

EDT

 

+

 

AT

  

TITANS

7

 

OCT 22

 

1:00

PM

EDT

 

*

  

JAGUARS

8

 

OCT 29

 

1:00

PM

EDT

 

*

 

AT

  

BENGALS

9

 

NOV 5

 

1:00

PM

EST

 

*

 

AT

  

TEXANS

10

 

NOV 12

 

1:00

PM

EST

 

*

  

STEELERS

12

 

NOV 26

 

1:00

PM

EST

 

*

  

TITANS

13

 

DEC 3

 

1:00

PM

EST

 

*

 

AT

  

JAGUARS

14

 

DEC 10

 

1:00

PM

EST

 

*

 

AT

  

BILLS

15

 

DEC 14

 

8:25

PM

EST

 

'

 

,

 

`

  

BRONCOS

16

 

DEC 23

 

4:30

PM

EST

 

,

 

AT

  

RAVENS

17

 

DEC 31

 

1:00

PM

EST

 

*

  

TEXANS
Tags: