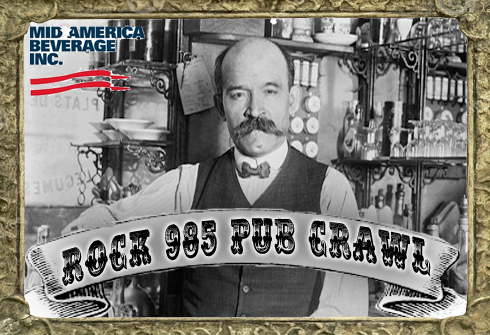 It's the Rock 98 point 5 pub crawl powered by mid America beverage! Every Friday night Stevie Riggs hits the road with the biggest prizes with the most chances to win!  Every Friday night.  It's a different bar, different prizes, one rocking party! Powered by Mid America Beverage reminding you to stay safe, don't drink and drive.
LOCATION: The Dutch Mill
This week The Rock 98.5 Pub Crawl Takes Riggs to the Dutch Mill!!!!!
Be at the party this Friday night from 4-6 pm at the Dutch Mill in Logansport! $4 Vegas Bomb $3 Long Island, Beer Garden with cornhole, Shuffle board (only one in town), 2 pool tables, we have IU football tickets Rocking dead tickets Indiana beach Indy zoo Haunted houses, Grissom maze of terror, movie passes!
The Mid America Beverage girls will be out as always with giveaways and samples too!
Located At
101 Burlington Ave.
Logansport, Indiana 46947
THE ROCKING DEAD
The Dutch Mill will be the place to be for your best chance tickets to get your Rocking Dead tickets to Rock 98.5's Halloween party to DIE FOR!!!!!  Be at the party Friday night at The Dutch Mill for the Rock 98.5 Pub Crawl powered by Mid America Beverage!