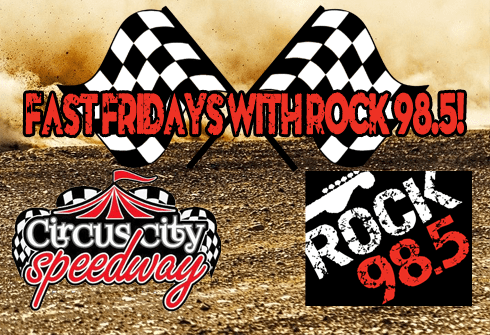 Fridays are about to fly by even faster! The Afternoon Rush on Rock 98.5 and Circus City Speedway are teaming up to bring you racing all summer long!
Listen to Rock 98.5 and follow us on social media to find out how you can win tickets each week!
Here's the upcoming schedule at Circus City Speedway and tickets that you could be winning this summer!
Performance Electronics 600cc Non-Wing World Championship – July 18th
Restrictor Class Rumble – July 25th
HARF Night – August 1st
Junior Sprint Jam – August 8th
USAC Regional Midgets-Circus City Classic – August 15th
Stock Class Shootout – August 22nd
Clarence Hoch Purple Heart Classic – August 29th
The Mack – September 5th
Sam Davis Memorial – September 12th
Elbows Up Brad Joyce Memorial – September 18th
Outlaw Challenge – September 26th
USAC Regional Midgets+Non-Wing Outlaw Fall Harvest 100 – October 3rd
Click here to find other races to attend at Circus City Speedway!
The Afternoon Rush is presented by Circus City Speedway.