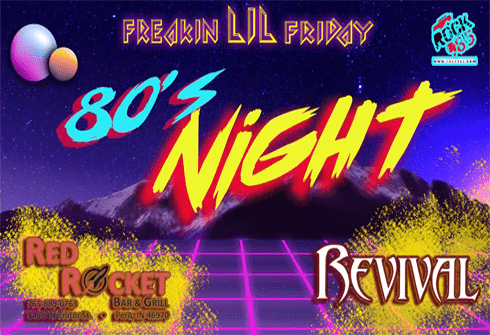 Thursday is the new Friday thanks to Rock 98.5's FREAKIN' LITTLE FRIDAY, our new weekly themed parties! Roll in and rock out with LIVE MUSIC, GIVEAWAYS, AWESOME FOOD, GAMES and MORE! Showing up is the ONLY way that YOU can win the GRAND PRIZE ticket package with tickets to bands like Skillet Music and Sevendust, Slipknot, Rob Zombie with Marilyn Manson, KISS, Papa Roach, Korn with Alice in Chains, Iron Maiden, Willie Nelson with Robert Plant, and "Weird Al" Yankovic! The more FREAKIN LITTLE FRIDAYS that you attend, the better your chances of winning the GRAND PRIZE! Thursday has become an event that you DO NOT want to miss!
JUNE 27: Fresh Freakin' Little Friday (80s NIGHT)
Jet, motor, or book it to the Red Rocket Bar & Grilll for another totally tubular Thursday,
brought to you by Rock 98.5! Wear your sunglasses at night, leg warmers, or any of your other
righteous 80's rags for an extra entry towards the GRAND PRIZE! You can chill out or heat
things up with our hot wings eating challenge. Have you got a radical vocal range? Give it all
you've got with our absolutely choice voice challenge! You do NOT want to miss this happen'en
event! Live music by Revival!
Be there or be square!