Kelsey Wylde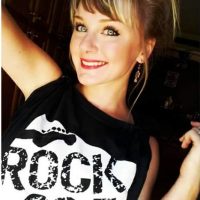 Weeknights 8PM – 1AM
What's up?! Kelsey Wylde here! Lover of all things music, motorcycle, and mayhem! To me, nothing
beats cranking the stereo as loud as it will go, rocking out at a show, or hitting the open road for some
wind therapy. I love to laugh and have fun with friends and family…and I can never pass up a good beer!
So don't threaten me with a good time! I'm truly a rock star at heart.
I was born and raised in Kokomo, Indiana, and have always wanted to work within my community. I'm a
graduate of Taylor High School, and also attended Indiana University Kokomo, where I studied public
communication (Go Cougars!). I've always been drawn to working in radio, and after dabbling in other
communication related jobs, I finally feel at home. I've combined my love for music and radio into my
dream job. And what gets better than that?!
As the oldest of 7 kids, I quickly learned to speak my mind and made my voice well-heard growing up. I
was once told by my grandma that I learned to talk at an early age I never stopped, and I'd say she was
right! But it's worked in my favor! I'm now working a job I truly enjoy, and I can talk as much as I want.
HAHA!
I married my high school sweetheart in 2015, and we are as happy as can be. We currently live in
Kokomo with our goofy dog, Rudy. In my free time I enjoy Harley rides with my hubby, pigging out to
any food I can get my hands on (fried chicken is one of my faves. And any dessert with caramel!), and
spending time outdoors. When I'm not outside, you can usually find me watching one of my favorite
shows: Sons of Anarchy, Vikings, or any animated series (Bob's Burgers and King of the Hill are two of
the best!). I love hard rock, classic rock, southern rock, metal, and any music that gets my blood
pumping! Led Zeppelin, Tom Petty, Alice in Chains, Ghost, Ozzy/Black Sabbath, Black Label Society, and
Pantera are some of the best, just to name a few among the many!
Well, I think that covers the basics! Thanks for taking a look into my world. Catch you on the "Wylde"
side!