Mandy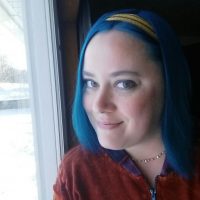 Mandy's radio career began over 15 years ago in Bangor, Maine.  Earlier, though, when she was just a kid, she recorded herself reading many story books, so the children at her mother's daycare could enjoy Books on Audio before that was really a thing.
Things she hates: filling out paperwork, slow drivers in the passing lane, spiders in the shower, and surprise mold on something you had your heart set on eating.
Things she loves: dogs.  Old dogs with white hair on their faces. Small dogs.  Big dogs.  All the dogs.  Kayaking, swimming, hiking, camping, reading, writing, painting, drawing, adult coloring books that are age-inappropriate for children (her favorite right now is the Apocalypse Coloring Book: Color Until the Very End!), brewing her own beer and cider at home, the sound of rain on an umbrella, extreme weather, sleeping late, and watching Chopped! on the Cooking Channel.
Mandy is filling in for Erika until she returns!