SAMMY AFTER DARK!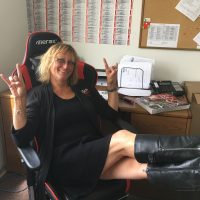 Weeknights 8PM – 1AM
I was born and raised in Marion, IN and went to Marion Community Schools until my freshman year then moved and graduated from Oak Hill. (I'm not telling you what year) My passion in school was music. I played violin from 4th grade through my senior year, I was in the Choir and Swing Choir, and I also played Oboe in band. I really didn't care much for the rest of my classes. I once told my Algebra teacher that I would pay attention and turn in work but I didn't give a crap about math. She agreed to my terms and I squeaked by in her class. After graduation I started in the food service industry until I had finally served my last customer. 16 years of that was enough for me.
I have a wonderful husband and three beautiful children and three grandchildren. (Still not telling you how old I am) I'm also the proud mama of three dogs Buddy (golden retriever) Kodiak (mutt) and Sirius Black (all black German Sheppard named after the Harry Potter character) they keep me pretty busy when I get home. 
I'm a self taught guitar and keyboard player and I've even dabbled in song writing and performing. Some of my musical influences include Led Zeppelin, AC/DC, Boston, Guns& Roses, Aerosmith, Nirvana, Green Day and My Chemical Romance. 
When I get the chance to read I enjoy Steven King, and Dan Brown books. But what I really like to do is binge watch Netflix and HBO. I just finished The Walking Dead, Orange is the New Black, House of Cards, and I've just started Game of Thrones. Mel Brooks is my favorite director and I love all of his movies and can quote any line you want to test me with. 
I'm Italian so I love pasta but I also enjoy a big thick juicy steak. I've been in radio for over a decade and really enjoy talking to you every night. If I had to give anyone advice it would be to do what you love and keep on rocking.