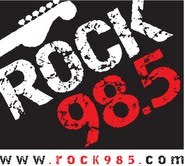 Rock 98.5 Is Located At 671 E. 400 S. (State Road 26) Just Outside Of Kokomo.
Our Office Hours Are Monday-friday 8a-5p. Office Line Is (765) 453-1212 and Our Studio Number Is (866) 985-ROCK.
Our text line: 765-450-9099
For long distance calls, call: 765-453- 4985
Staff:
Stacy Scott, Vice President/Market Manager
Stevie Riggs, Operations Manager/Program Director
If you are a non-for-profit wanting to have an event mentioned in our community calendars, Submit Here.
If you want to tell us what you think of the station, just Click Here.
If you want to advertise with us click here to talk to our market Market President.