The Cutting Edge Countdown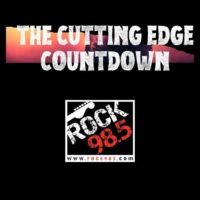 The Cutting Edge Countdown is a 2-hour music show glorifying new and Active rock.  Cutter counts down the top 25 in Rock, plus flashes back with some former number ones.  Cutter also sits down and chit-chats with today's biggest rock artists.
Who is Cutter?  Well, Cutter got his start at the ripe old age of 19 after realizing at an early age it's hard to make it as a rock star. He's done afternoons, mornings, and of course programmed, but this is not his first go into syndication.  Cutter hosted and produced the syndicated classic metal show Hangar 19 for years. Over these years he has created personal relationships with even some of YOUR favorite musicians and of course the listeners, or as he likes to say, his friends.